One of the biggest retail companies, originally an " American multinational tech company" – Amazon is seeking alternative payments and seeks to embrace the developing technology of cryptocurrency and blockchain. A job listing established by Amazon required a leader with experience in digital assets. So can we infer from this that Amazon is planning for a tech revolution within the bounds of its service by a possibility of allowing its customers to pay in Bitcoin, in the immediate future?
Amazon May Soon Allow Payments In Cryptocurrencies Such As Bitcoin
The massive E-commerce retail company was recently found to have post-placement requirement listings under the heading "Amazon's Payments Acceptance & Experience team". It said and here quoted, "seeking an experienced product leader to develop Amazon's Digital Currency and Blockchain strategy and product roadmap". The requirements list later added to the text that, "You will leverage your domain expertise in Blockchain, Distributed Ledger, Central Bank Digital Currencies and Cryptocurrency to develop the case for the capabilities which should be developed, drive the overall vision and product strategy, and gain leadership buy-in and investment for new capabilities."
Experts and market analyst reports interpret this act as an obvious step taken by Amazon to embrace the developing cryptocurrency and blockchain technology. It says that the e-commerce retailer plans to make payments in Bitcoin as an alternative to the already existing mode of payments. Although, nothing has been yet decided, and Amazon or its other branches of companies don't yet allow cryptocurrency as a mode of payment.
As per data from Investing.com, Amazon spokesperson gave a statement on media clarifying their 'job listings' which came in the vicinity of inspection and scrutiny by many and became a mainstream media news headline soon after. It says, "We're inspired by the innovation happening in the cryptocurrency space and are exploring what this could look like on Amazon. We believe the future will be built on new technologies that enable modern, fast, and inexpensive payments, and hope to bring that future to Amazon customers as soon as possible."
One of the e-commerce giant Amazon.com subsidiaries, Amazon Web Services (AWS) has already adopted and provides a  blockchain-based digital service. AWS provides services like "on-demand cloud computing" interface provider, Application Programming Interface (APIs) to individuals, institutions belonging to both public authority such as the government and private companies on a metered pay-as-you-go basis.
The company further states that they "need to operate with a high level of autonomy and operate analytically, working backward from data and customer insights to build new and innovative solutions to unsolved problems."
Amazon Is Not THe First Tech Giant To Plan The Adoption Of Bitcoin In Their Mainstream Services
Earlier this year in May 2021, the prominent company is known for designing and manufacturing highly advanced technological appliances, hardware, and software – Apple also launched a similar job vacancy listing. It required a " Business developer manager". The job post capabilities required description stated "working in or with alternative payment providers, such as digital wallets, BNPL, Fast Payments, cryptocurrency &c." Emphasising on the word "Alternative Payments", it is obvious that the tech giants influenced by Tesla are gradually moving towards a more "globally accepted digital asset/currency".
These huge technological industries are making a way to accept Bitcoin as a legit asset used for transactions builds on other recent support for Bitcoin. It also includes positive comments from Elon Musk and Ark Investment Management LLC's Cathie Wood. These actions are a speculative plausible justification for the rallied up rates for Bitcoin.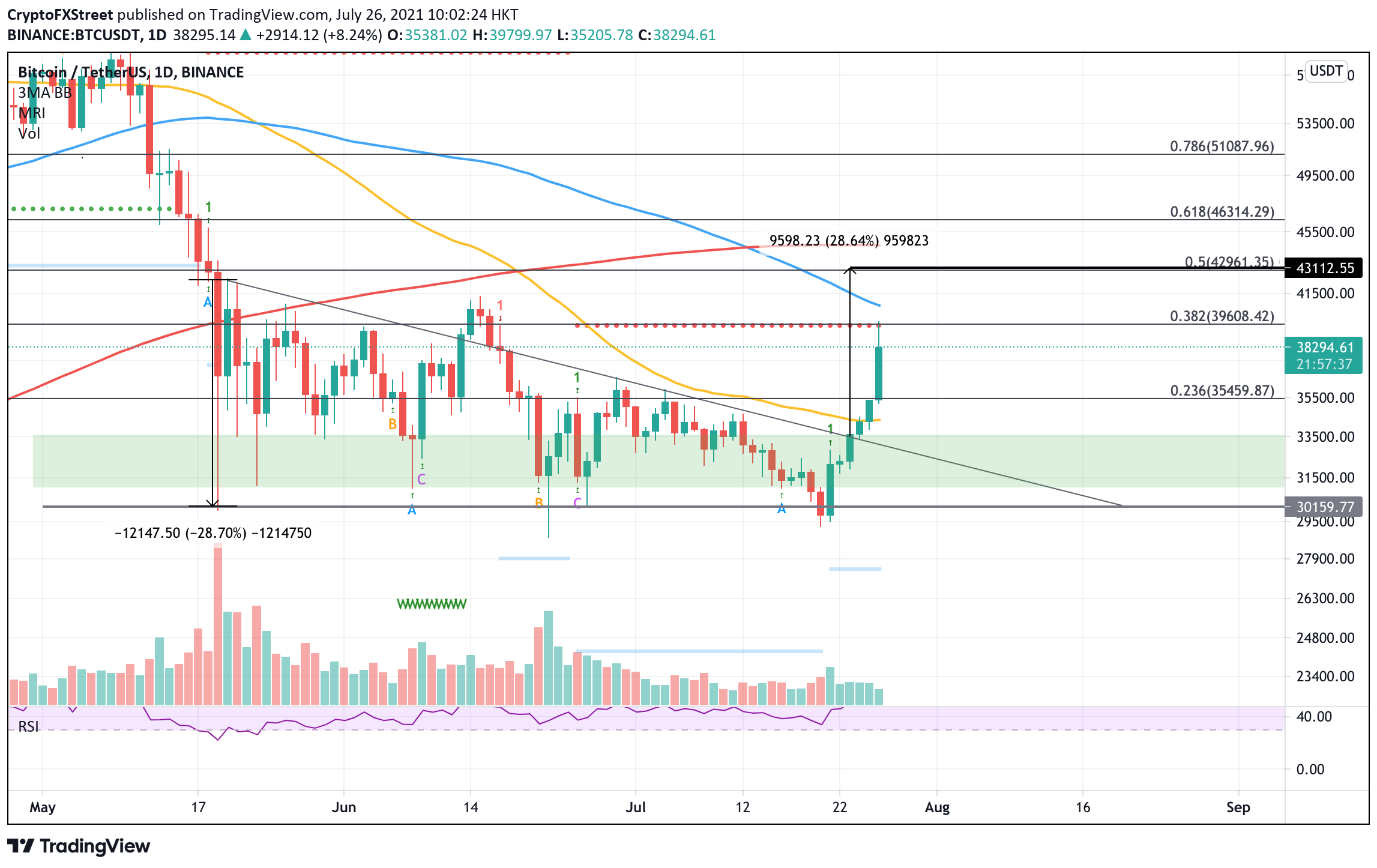 The cryptocurrency last week tussled to reach the $30,000 mark. As of rates recorded in the last few days Bitcoin reached a near price of $38,000. Finally, after months of Bitcoin succumbing to the falling market rates, it is rising again. Amazon is said to play a significant role in this phenomenon.
However, Elon Musk, entrepreneur, industrialist, and owner of Tesla recently declared that it is temporarily resuming accepting Bitcoin as a medium of payment.
Will bitcoin become the global (digital) currency or will its volatility depending upon market publicity terminate the crypto coin from this prestigious role? We must ask ourselves certain questions before being impulsive about the cryptocurrency market and its adoption in use.
Please follow and like us: