Yesterday marks the 14th birthday of Bitcoin, the world's largest and most popular cryptocurrency. The first block of the Bitcoin blockchain, known as the Genesis block, was mined on January 3, 2009, by the pseudonymous developer(s) known as Satoshi Nakamoto. Bitcoin and other cryptocurrencies are byproducts of blockchain technology.
"Despite obstacles, Bitcoin has thrived and evolved into an alternative to the centralized financial world. As Bitcoin celebrates its 14th birthday, it is worth reflecting on its extraordinary journey thus far and the numerous inventions that it has inspired. Here's hope that the next 14 years are just as exciting for Bitcoin and the cryptocurrency industry as the last 14." - Rajagopal Menon, Vice President, WazirX stated.
One of the first major real-world transactions happened in 2010 when the now-famous Laszlo Hanyecz paid 10,000 BTC for two pizzas.
That equates to around $167.3 million in today's dollars. The purchase has become a crypto community event, with May 22 being designated as Bitcoin Pizza Day.
It didn't take long for Bitcoin to attain a $1 worth, which occurred in February 2011. Soon after, the asset's price rose to $10 and subsequently to $30, resulting in a 30 times increase for the year. It surpassed $1,000 per token in 2013.
When Bitcoin's birthday approaches, the crypto community on Twitter bursts in celebration, from the ordinary retail investor to the most notable people owning the asset.
For example, on January 3, "Bitcoin maximalist" and MicroStrategy Executive Chairman Michael Saylor referred to Bitcoin as "Digital Gold" on Twitter.
Bitcoin "Maxis" think that Bitcoin will be the sole digital asset required in the future. Evan Luthra, a prominent "Ethereum Maxi," tweeted about how the birth of Bitcoin forever impacted the world.
On Bitcoin's most recent birthday, ANC, one of Ukraine's leading drugstore chains, announced that it will now accept Bitcoin as a payment option.
Related Read: Bitcoin in Green as Robert Kiyosaki Warns That Regulations will Crush Market
Bitcoin Price Analysis
At the time of writing, the price of Bitcoin is $16,856.64 USD, with a 24-hour trading volume of $16,190,207,896 USD. Bitcoin has increased by 0.61% in the previous 24 hours. BTC is now ranked first on CoinMarketCap, with a market cap of $324,522,586,668 USD. It has a total quantity of 21,000,000 BTC coins and a circulating supply of 19,251,918 BTC coins.
Source: CoinMarketCap
After a false breakthrough, the price of Bitcoin (BTC) is trading near the local support level of $16,654 on the daily chart. If buyers do not grab the initiative, the collapse may quickly lead to a test of the $16,500 zone.
The price ultimately challenged the blue trendline for the third time and failed to break it to the downside after being rejected by the 50-day moving average and stabilizing for a few days.
The price then began a minor rise, reaching the 50-day moving average of $16.8K. Bitcoin is now battling a major resistance zone formed by the 50-day moving average and the blue trendline.
A break above the moving average will result in a positive momentum rally; if the price falls below the trendline, a shakeout toward the $15K annual low is expected.
However, the future price action should put an end to the previous misunderstanding between bulls and bears in determining the mid-term market direction.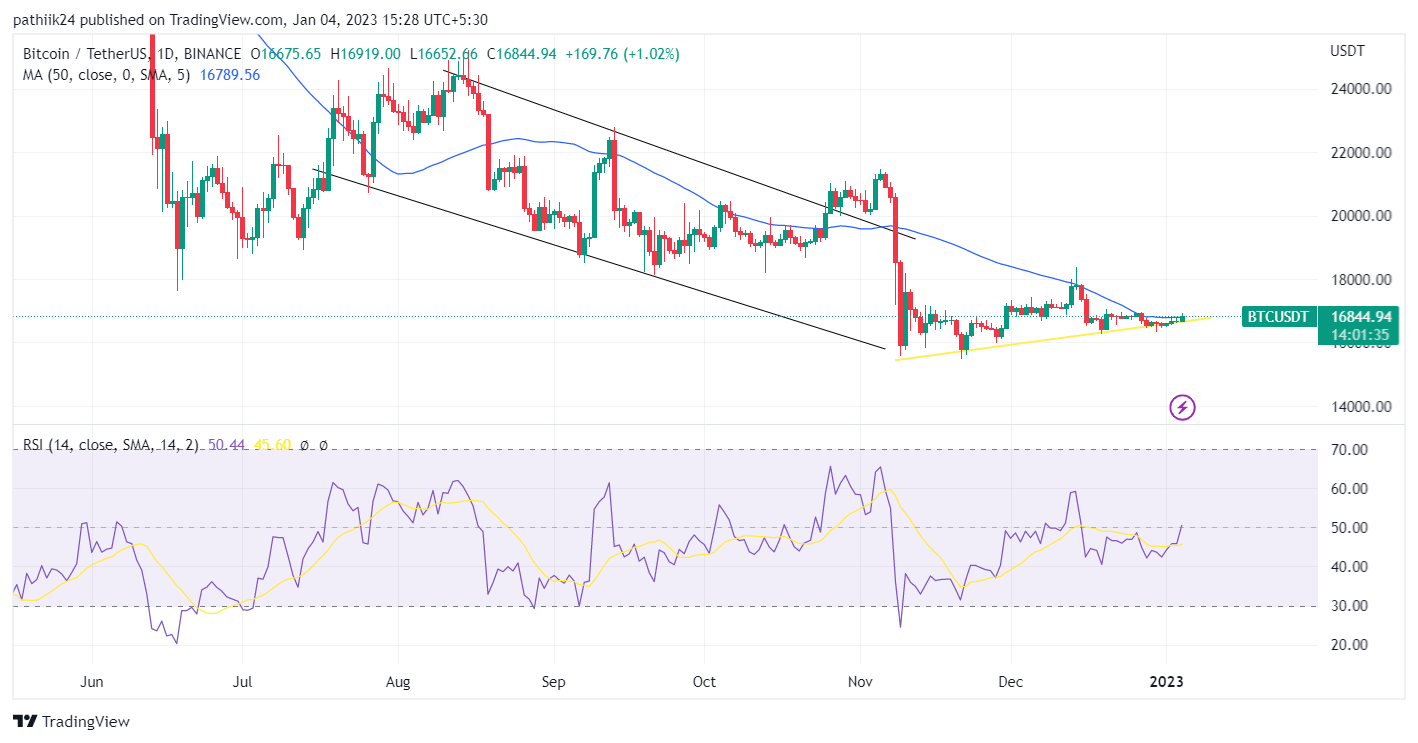 Source: TradingView
For the previous few days, the $16.4K region has been a potential support zone on the 4-hour time frame. After retesting this level, the price just began a minor rebound. The momentum, however, is not promising, as Bitcoin has been producing little candles.
At $17K, there is a static resistance level in Bitcoin's route to $18K. Given the poor momentum and the fragile neutral attitude, the price may consolidate in the mid-term range between the $16.4K support and the $17K resistance levels.
Source: TradingView
The figure below depicts the Taker Buy/Sell Ratio measure with the price of Bitcoin. The ratio of purchase volume divided by sell volume for takers in perpetual swap contracts is used to track overall sentiment in the derivative market. Values greater than one indicate a predominance of bullish sentiment, whereas values less than one suggest a predominance of pessimistic emotion.
As seen in the graph, there are two obvious static levels: 1.03 (in green) and 0.97. (in red). When the metric crossed 1.03, the price witnessed a positive spike. Alternatively, as more sell orders were filled, Bitcoin fell as the metric fell below the red line.
Since August 2022, the current value has been stabilizing around one, indicating long-term neutrality in the perpetual market due to a lack of liquidity. If liquidity or adequate demand does not return to the market, Bitcoin is unlikely to launch a positive rally.
Source: CryptoQuant
Bitcoin FAQs
How long will it take to mine 1 Bitcoin?
It takes about 10 minutes to mine one Bitcoin, however, this is with perfect hardware and software, which isn't always cheap and only a few individuals have it. Most users can mine a Bitcoin in 30 days, which is more usual and reasonable.
Is Bitcoin legal?
Although many countries recognize bitcoins as a kind of finance, just a few consider them legal tender. Outright restrictions exist in China, Algeria, Bangladesh, Egypt, Iraq, Morocco, Nepal, Qatar, and Tunisia.
How does Bitcoin make money?
Miners on the Bitcoin network make money by validating blocks and being reimbursed for their efforts. Bitcoins may be traded for fiat money and used to make purchases from merchants and retailers who accept them via cryptocurrency exchanges.
Can BTC addresses be hacked?
Cryptocurrency is a decentralized digital money that secures transactions and ownership information via encryption. Transactions involving cryptocurrency are recorded on a digital database known as a blockchain. The fundamentals behind blockchain technology make hacking into a blockchain almost difficult.
Can I mine Bitcoin on my phone?
Solo or pool mining services are available for crypto mobile mining on iOS and Android platforms. However, Bitcoin can't be mined using mobile phones as it is a very heavy process and requires heavy equipment.
Disclaimer: The article is merely the opinion of the writer and is not intended to be taken as investment advice.