Binance (BNB) CEO Changpeng "CZ" Zhao was aggressively seeking re-entry into South Korea after the company left in January 2021. South Korea boasts one of the world's major crypto markets, an exceptional talent pool, and a thriving startup scene, making it an appealing market for Binance. Binance's South Korean growth will be crucial in establishing leadership in the next wave of blockchain and web3 innovations.
Related Read: BNB Consolidates as Binance Integrates Apple Pay and GPay to Buy Crypto
Binance Acquiring Gopax
Binance has officially entered South Korea by acquiring Gopax, according to Wu Blockchain on January 2. Binance just concluded the due diligence process for the acquisition of Gopax. Binance is attempting to acquire a controlling share in Gopax from CEO Lee Jun-haeng, who owns 41.2% of the company.
For reasons like anti-money laundering and investor protection, South Korean financial regulators have severe regulations for overseas virtual asset operators. Following the Terra-LUNA catastrophe, crypto firms must adhere to extremely tight requirements, in addition to frequent inspection.
Binance aggressively increased its presence in Europe and Southeast Asia in 2022. Binance joined the Japanese market on November 30th, 2017 with the acquisition of Sakura Exchange BitCoin (SEBC). Furthermore, in December, it bought the Indonesia-based exchange Tokocrypto.
Also Read: How does BNB coin work?
Binance (BNB) Price Analysis
At the time of writing, the price of BNB is $245.46 USD, with a 24-hour trading volume of $297,229,775 USD. In the last 24 hours, BNB has been down 0.70%. BNB is currently ranked #5 on CoinMarketCap, with a live market cap of $39,265,091,149 USD. It has a maximum quantity of 200,000,000 BNB coins and a circulating circulation of 159,964,300 BNB coins.

Source: CoinMarketCap
For the previous three days, BNB has been trading at the $250 breakdown level. This indicates that the bears are seeking to turn the level into support, while the bulls are aiming to push the price back above it.
This narrow trading range is unlikely to last long. The longer the price continues within the narrow range, the more powerful the ultimate breakthrough.
The BNB/USDT pair might reach the 50-day simple moving average ($270) if buyers push the price over the $250 to $255 overhead resistance zone. This level may serve as a little impediment, but if overcome, the pair may advance to $300.
The bears will most likely have different intentions. They will strive to keep the price below $236 by shielding the overhead zone. If they do, the pair may fall to $220 and ultimately to $200.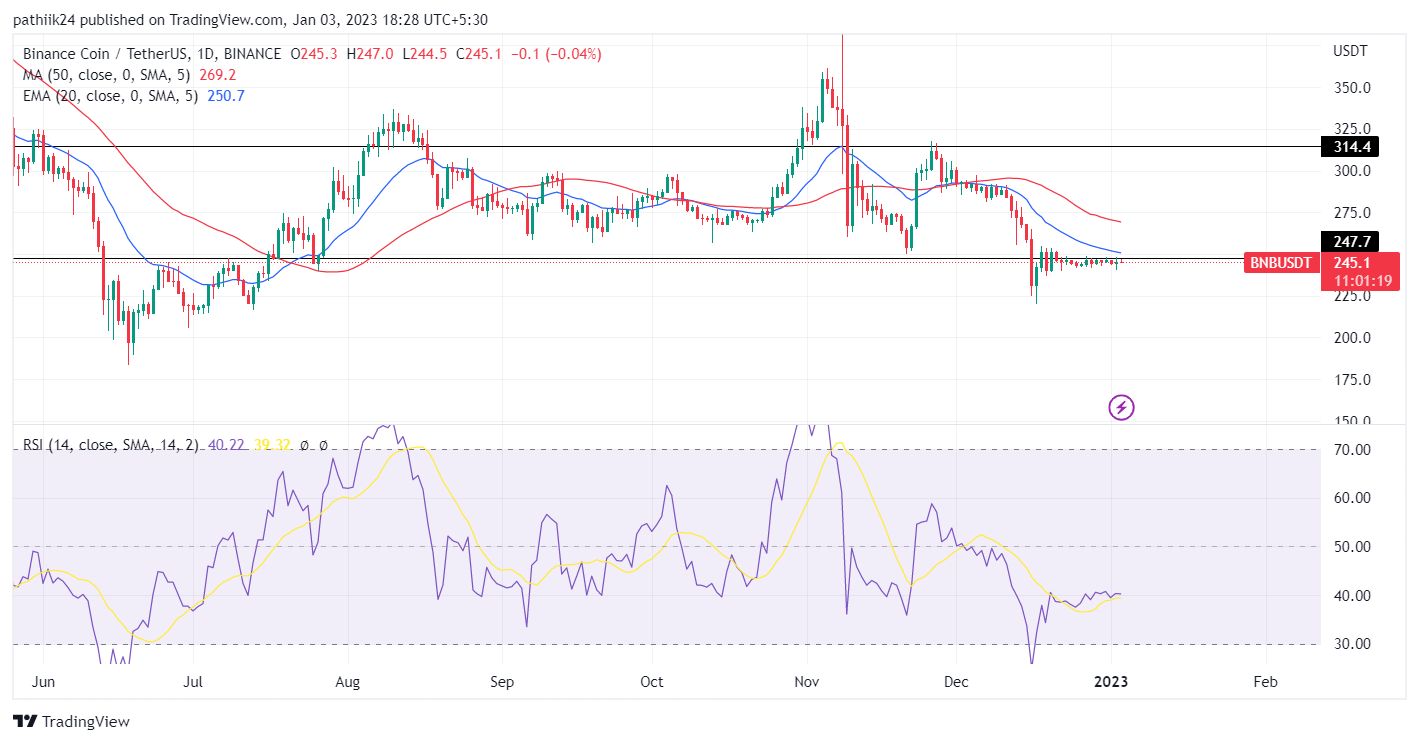 Source: TradingView
On the 4-Hr chart, the price is making a straight parallel channel pattern which indicates that there's no certainty where the prices will go from here. The price is consolidating between the $248 and $242 range. A slight breakout from the lower range could make the bear run come in else if the upper range gets breached, a slight bull run could occur.
The RSI indicator approaches the 50 level which indicates that the price is going above the safe buying region. However, the indicator line goes downwards which shows that the sellers are already activated.
The 20 days EMA and 50 days MA is almost steep and exhibit no changes as the price moves forward.
Source: TradingView
BNB Chain is "Very much a BlackBox", Says Nansen Analyst
Binance, the largest cryptocurrency exchange by trading volume, is "tremendously well-financed," but its financials remain "very much a black box," according to an analyst at data analytics firm Nansen.
According to Andrew Thurman, the exchange has $55 billion in client deposits on-chain, but "apart from that, we don't have much on-chain or any type of financial access or transparency into their organizations."
Binance has been under fire from the media after a substantial quantity of assets, estimated to be $6 billion, were transferred out of the exchange in 24 hours last week. According to Nansen's investigation, Jump Trading, a key trading business in the ecosystem, was among the top companies that transferred cash out of Binance.
Thurman speculated that it may have been a mechanism for Jump Trading to redeem its BUSD, which is issued by Paxos, a New York State Department of Financial Services-licensed exchange.
Despite being one of the first exchanges to give proof of reserves, via a report that has since been withdrawn by its auditor Mazars, and being well-capitalized following the collapse of FTX, Thurman stated it is impossible to assess the exchange's financial health.
BNB FAQs
What is the BNB chain?
Build N Build Chain (BNB Chain) is a distributed blockchain network on which developers and innovators may create decentralized apps (DApps) as part of the Web3 transition.
How many types of BNB are there?
BNB is now accessible in three varieties: BNB BEP-2 on the BNB Beacon Chain, BNB BEP-20 on the BNB Smart Chain, and BNB ERC-20 on the Ethereum network.
Is BEP20 the same as BSC?
The BSC operates in parallel or conjunction with the Binance Chain, the Binance crypto exchange's initial blockchain. BEP20 is a token standard used for producing tokens on BSC, similar to ERC20 for creating tokens on Ethereum.
Is BNB a coin or token?
The BNB Chain ecosystem is powered by the cryptocurrency token BNB. As one of the world's most popular utility tokens, BNB can not only be traded like any other cryptocurrency but it can also be used in a variety of applications and use cases.
Does BNB run on Ethereum?
BNB was an ERC-20 token produced on the Ethereum network during its ICO and early days. Binance launched its crypto trading platform just days after its mid-2017 ICO concluded.