The first fully fiat, regulatory compliance stablecoin in the Cardano ecosystem has just been launched, according to Emurgo, the official commercial arm and founding entity of Cardano.
The USDA will comply with regulations thanks to the collaboration with an unnamed U.S.-based financial services company that will serve as the stablecoin's banking partner.
The USDA's support of physical assets will help maintain substantial and long-term price stability, potentially paving the way for the Cardano ecosystem to gain more dependable financial services.
The founder of Cardano, Charles Hoskinson, said that the business would introduce a new coin called Dust to power this distinct ecosystem that prioritizes privacy while speaking at an event at Edinburgh University. Midnight, the company's latest blockchain, is anticipated to outperform earlier privacy-focused currency initiatives.
The Uptrend Channel Down Pattern
The news ignited a fire amongst crypto investors and positively impacted ADA's price. As per the trendline price action, the price chart is making a channel-down pattern which indicates a bullish stance.
The price breakdown broke support three times and retreated upwards until 20 Nov. The support was broken below the $0.31 level and consolidated along the subsequent help of $0.29. Following the new updates, Cardano's price surged above $0.31 (Previous support).
ADA broke the $0.31 level resistance right now, which could signify a near future bull run.
Source: Tradingview
The graph is consolidating between 0-0.236 Fib region and holding a good zone for short-term investors.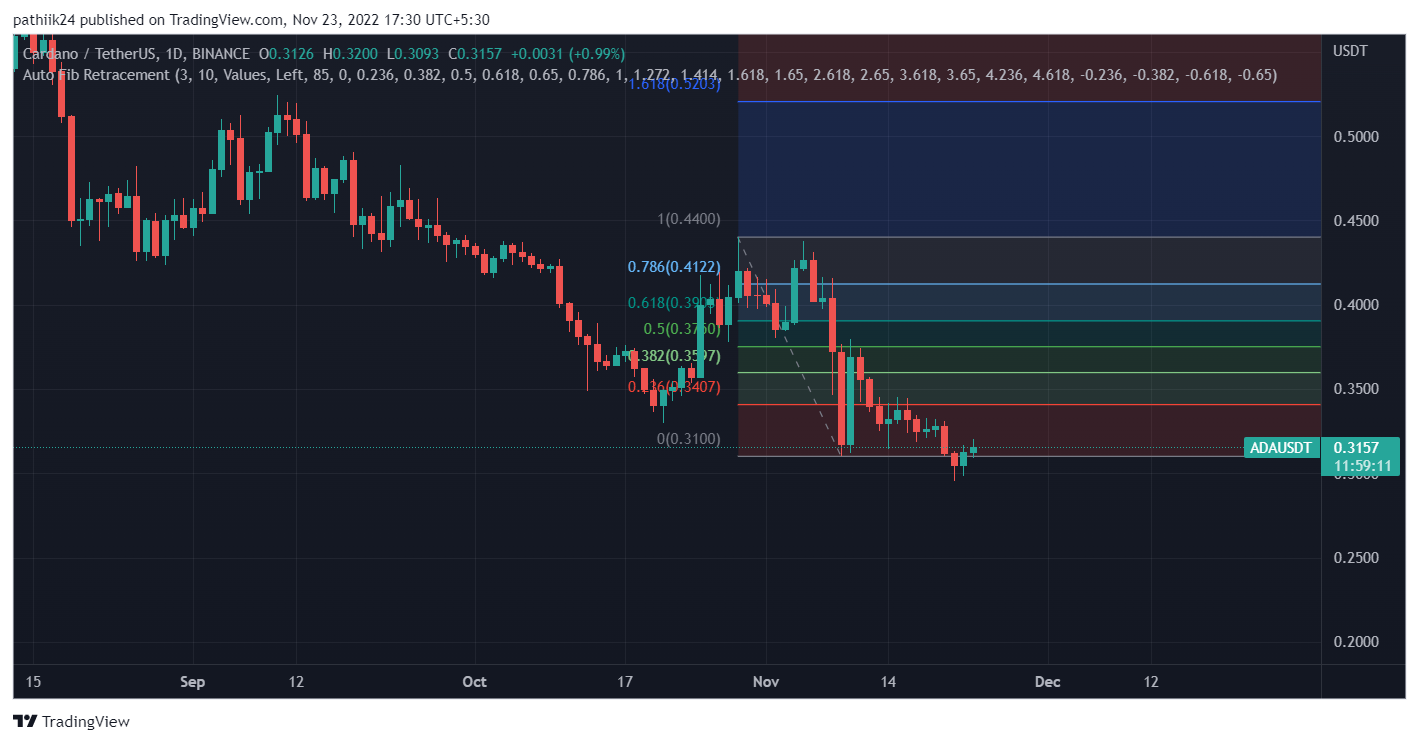 Source: Tradingview
Another significant positive trend may be seen by looking at the RSI indicator, which gauges the purchasing and selling pressure of an item. Technical analysts will need to observe the ADA break above the $0.325 resistance level in order for this pattern to be supported. Cardano is very bullish in the short term, according to the EMA indications on the 4-hour chart. The long-term forecast for ADA is still favourable as it continues to move toward higher pricing.
Source: Tradingview
The Perks of USDA
Users will be able to tokenize their USD into USDA via credit/debit cards, wire transfers, or conversion of Cardano's native ADA token when USDA launches on the Anzens platform in Q1 2023, according to Emurgo.
To ensure USDA is entirely compliant and follows regulatory rules, Emurgo said it has worked with a licensed financial services organization with headquarters in the United States as the banking partner.
With a long-term goal of enabling conversion and swaps of cryptocurrencies like bitcoin (BTC), ether (ETH), and other cryptocurrencies, Emurgo will soon enable the tokenization of USD along with the conversion of other stablecoins, such as USD Coin (USDC) and tether (USDT), to USDA.