El Salvador has just enacted a bill that sets a legal framework for the production of a Bitcoin-backed bond, called the "Volcano Bond", which will be used to pay off government debt and finance the construction of a planned city called "Bitcoin City".
The bonds are called "Volcano" because the projected location of "Bitcoin City" is near the Conchagua volcano and will be powered by its hydrothermal energy.
El Salvador's National Bitcoin Office confirmed the bill's passage in a tweet and claimed that the bonds would be issued soon. The measure was passed by a vote of 62 to 16 and is expected to be signed by President Nayib Bukele.
According to Bitfinex, a cryptocurrency exchange, the "Volcano Bond" or "Volcano Tokens" will allow El Salvador to raise funds for paying off government debt, constructing the "Bitcoin City," and establishing Bitcoin mining companies.
Bitfinex has stated that the "Bitcoin City" will be a special economic zone similar to those found in China, offering tax benefits and favourable rules to attract people. The bonds are intended to raise $1 billion for the country, with half of the proceeds going toward the construction of the special economic zone.
Samson Mow, a Bitcoin supporter who is also involved in the development of the "Volcano Token," has stated that the new Digital Securities Law and the ability to create new financial instruments such as Bitcoin Bonds will assist the country in repaying its existing debts and will be critical in transforming it into a major financial centre.
The measure also establishes a new regulatory agency to enforce securities legislation and defend against fraudulent activities, and it creates a legal framework for all digital assets, not only those created on Bitcoin.
Related Read: Bitcoin Hashrate Rises to an ATH, Price Breaking out Three Week Trend
Bitcoin Price Analysis
At the time of writing, the price of Bitcoin is $18,119.14 USD, with a 24-hour trading volume of $30,182,323,177 USD. Bitcoin has increased by 4.38% in the last 24 hours. BTC is now ranked first on CoinMarketCap, with a market valuation of $348,974,685,050 USD. It has a maximum supply of 21,000,000 BTC coins and a circulating supply of 19,260,006 BTC coins.
Source: CoinMarketCap
Also Read: What is Bitcoin Rainbow Chart? Explained
Bitcoin is hovering between the upper and lower Bollinger Bands on the daily chart. The Stochastic RSI indicator has risen beyond the 80-point threshold, indicating overbought circumstances. If bears manage to break below the bottom range, Bitcoin may face additional downward pressure.
On the upside, the $17,800 resistance level must still be broken for buyers to turn this market bullish. If Bitcoin manages to break above this level, it might pave the way to highs over $20,000. Bitcoin price analysis on a daily period shows that BTC is forming a symmetrical triangle, implying that a breakout is possible. A break above the upper trendline at $17,800 would indicate further bullishness and traders could start eyeing higher levels around $20,000.
With the 50-day moving average at $16,200 and the 100-day moving average at $17,053, the moving averages are giving excellent support. A break below these levels would be a negative indicator, and Bitcoin might fall down toward the 200-day moving average, which is now around $14,400. Both the MACD line and the RSI are rising, indicating that buyers have the upper hand. A break over $17,800 would reaffirm bullish momentum and might lead to new highs for Bitcoin.
Source: TradingView
A 4-hour chart study of Bitcoin prices shows that volatility has diminished as traders await a predicted breakout. BTC is currently trading above the 20-day moving average, which has been a good support level over the last week. The MACD line and the RSI are both positive, indicating that buyers have reclaimed control of the market.
The nearest resistance level is $17,800, however, a break over this level may result in additional upside pressure. The Chaikin Money Flow indicator indicates that money is flowing into Bitcoin, which could imply that purchasers are attempting to drive the price higher despite the present lethargy.
Bitcoin's major support level is at $17,200, and if BTC can maintain above this price level, it may open up a path to the next resistance level at $18,000. A breach below this level would be negative and might send Bitcoin down to its prior low of $16,500. Thus, Bitcoin price analysis on a daily and 4-hour period indicates that BTC is stabilizing over $17,500 as buyers and sellers await an expected breakout.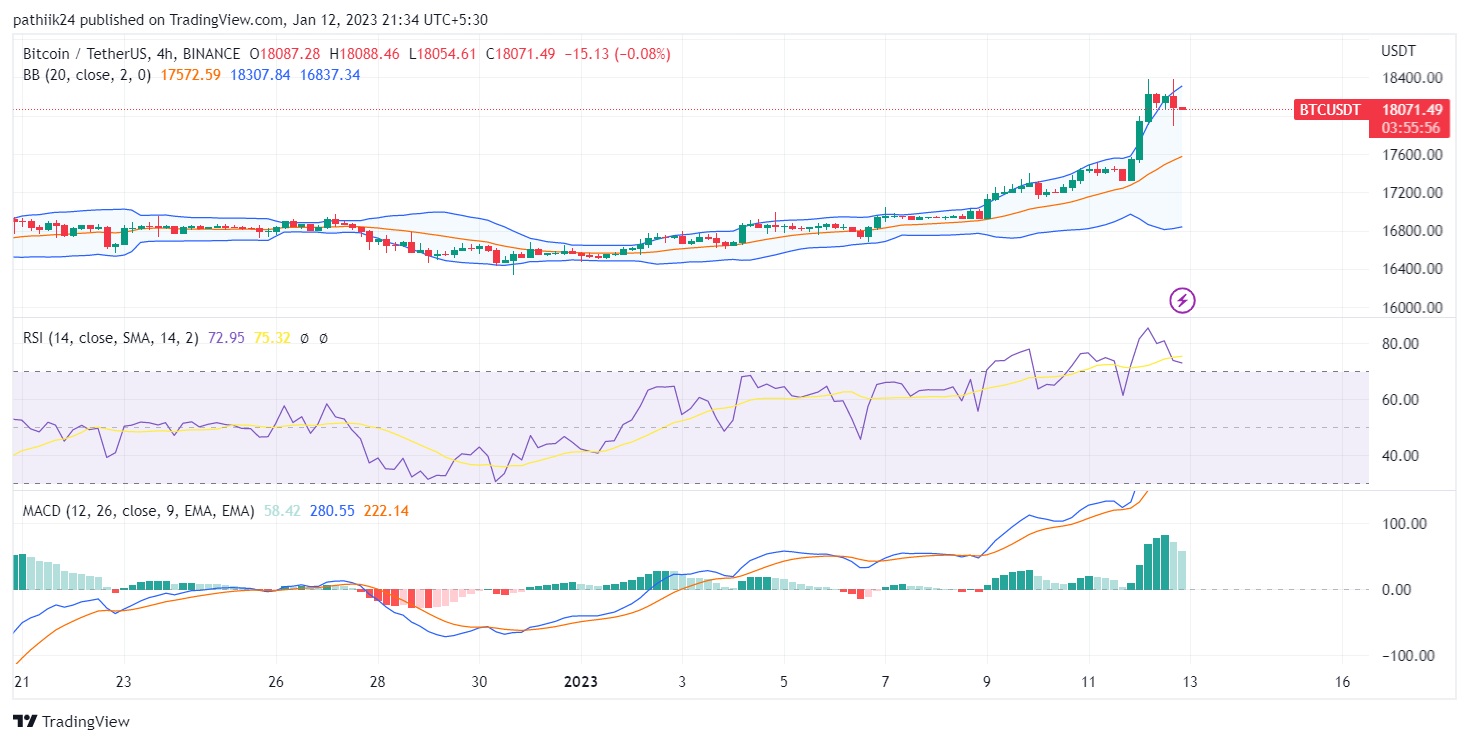 Source: TradingView
Bitcoin FAQs
How does Bitcoin make money?
The Bitcoin network of miners earns money by validating blocks and being compensated for their efforts. Bitcoins can be exchanged for fiat currency through cryptocurrency exchanges and used to make purchases from merchants and retailers who accept them.
Can you get rich on Bitcoin?
Yes, cryptocurrency may be used to create money. Because of the inherent volatility of crypto assets, the majority involve a significant level of risk, while others necessitate specialized knowledge or skill. Trading cryptocurrencies is one method for making money with cryptocurrency.
Can BTC addresses be hacked?
Cryptocurrency is a decentralized digital money that secures transactions and ownership information via encryption. Transactions involving cryptocurrency are recorded on a digital database known as a blockchain. The fundamentals behind blockchain technology make hacking into a blockchain almost difficult.