According to the Department of Justice, there appears to be no doubt that neither token should be categorized as a security. This is in sharp contrast to SEC Chairman Gary Gensler, who has not only led the case against Ripple but has also stated on several occasions that virtually every crypto coin is a security.
The DoJ may have supplied another reason for Ripple that the legal status for cryptocurrencies is not as clear as the SEC asserts. Because both CRV and MNGO are classified as commodities, it is logical to believe that XRP is also a commodity and not a security.
Surprisingly, the US Department of Justice filed these filings in the Southern District of New York, the same court where the Ripple vs. SEC lawsuit is being heard.
Related Read: Ripple to Launch National Stablecoin in Palau, Prices May Affect
Ripple (XRP) Price Analysis
At the time of writing, the price of XRP is $0.343858 USD, with a 24-hour trading volume of $381,147,755 USD. In the previous 24 hours, XRP has gained 1.13%. XRP is now ranked #6 on CoinMarketCap, with a live market cap of $17,311,008,905 USD. There are 50,343,500,506 XRP coins in circulation, with a maximum supply of 100,000,000,000 XRP coins.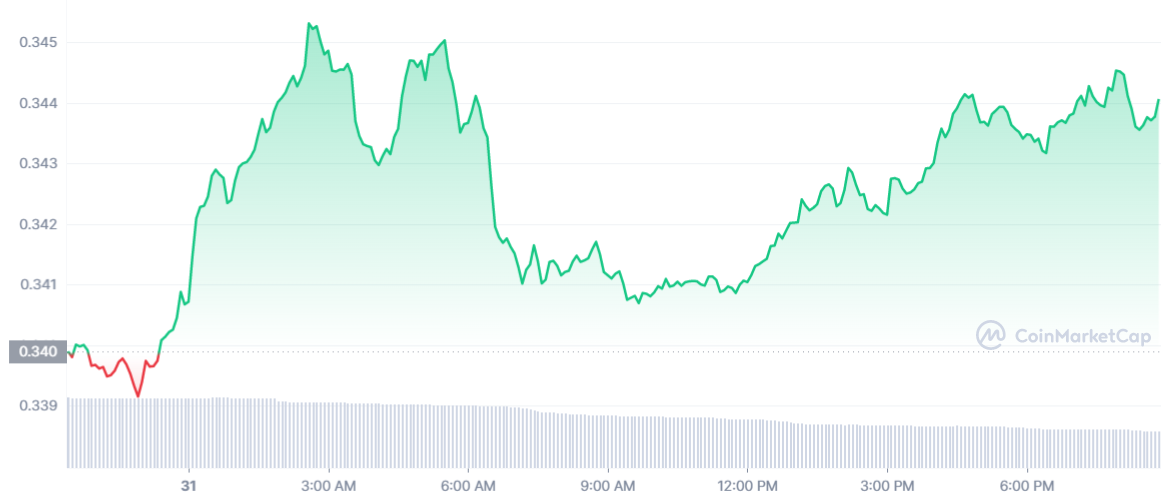 Source: CoinMarketCap
Also Read: How does Ripple (XRP) work?
On December 29, XRP rebounded off the support line of the symmetrical triangle, but the bulls were unable to initiate a comeback. On December 30, the bears tightened their hold and dragged the price back to the support line.
Both moving averages are trending downward, and the relative strength index (RSI) is below 39, suggesting that the path of least resistance is downward. If the price falls below the support line, it means that the bears have beaten the bulls. The XRP/USDT pair may potentially revisit its June low of $0.29.
If the price rebounds from its present level, the bulls will attempt to push the pair above the 20-day EMA ($0.36). If they accomplish this, the couple may be able to rise to the triangle's resistance line.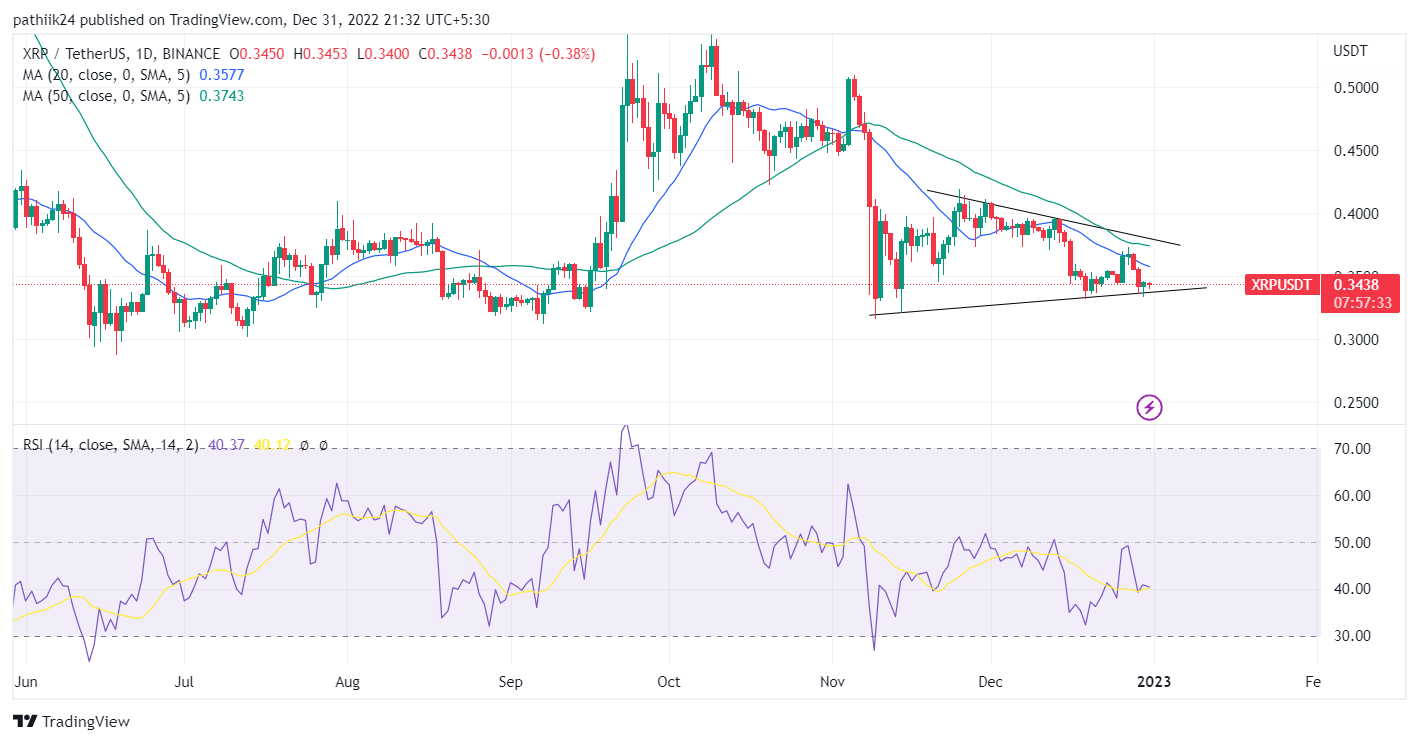 Source: TradingView
According to our weekly crypto price analysis, Ripple has been on a declining trendline but has begun to show indications of recovery in the last few hours. Ripple's price is rising and is now trading at $0.342.
The RSI (Relative Strength Index) is getting close to 40. Furthermore, the bulls are attempting to break through the moving average resistance. If we are successful, investors should expect a price increase of $0.37 or higher. If the bears are successful in driving prices below $0.34, the market might see a sell-off that takes XRP all the way down to $0.30, its important support level.
When the price goes below the 20-day EMA, bears will attempt to drive the XRP pair below $0.33. If they are successful, we may witness a drop to a critical support line at $0.30, which bulls will almost surely try to defend against further declines.
Prices might rise from here, enabling buyers to push the pair beyond overhead resistance at $0.37. If this happens, we should expect a rally up to $0.41, which might function as a severe hurdle.
Source: TradingView
Ripple v. SEC Case Progress
Notably, the lawsuit continues to document fresh developments from interested parties even while both sides wait for an update on the verdict. In particular, the court has allowed an application by attorney Lewis Cohen to appear in the lawsuit on behalf of cryptocurrency-focused investment company Paradigm, according to a Finbold report.
In addition, SEC is still under fire for submitting a move to seal crucial records related to the case. The regulator's detractors contend that the SEC is targeting well-known companies like Ripple while failing to stop events like the collapse of the FTX cryptocurrency exchange.
Ripple FAQs
How many ripples are left?
Currently, 45,404 billion XRP tokens are in circulation, with a total supply of 100 billion XRP tokens.
Why is XRP so popular?
XRP's consensus protocol allows it to process transactions in seconds at a low cost and with little energy. As a result, it is one of the more eco-friendly cryptocurrencies. In contrast, Bitcoin transactions are inefficient.
How many banks use Ripple?
Ripple works with financial institutions all over the world; more than 100 financial institutions, including Santander, have joined RippleNet (USA)
Who are XRP major holders?
Nonetheless, it appears that the majority of the tokens are held by retail investors on the Binance cryptocurrency exchange. Binance owns 38.5% of XRP, with the remainder distributed across other platforms. Notably, BNB Smart Chain (BSC), formerly the Binance Smart Chain blockchain network, supports XRP.
Will banks use XRP?
RippleNet is used by many international banks. Any bank that joins the network has access to several other banks with which to trade. As a result, XRP provides participating banks and their customers with market access.