The failure of Sam Bankman-FTX Fried's has destroyed billions of dollars in customer funds and shook the faith of a market already in the grip of a lengthy and painful decline.
The events that occurred in the digital asset industry between November 6 and 14, 2022 are nothing short of extraordinary, shocking, and disheartening, to say the least. In less than a week, one of the most popular and high-volume exchanges, FTX.com;
A banking collapse occurred.

Customer withdrawals have been halted.

Entered into failed acquisition talks with competitor Binance.

Customer money was discovered to be $8B to $10B short.

Exchange wallets were allegedly hacked to the tune of $500 million.

FTX US and its sibling firm filed for Chapter 11 bankruptcy.

The Alameda / FTX organization appears to have engaged in wrongdoing.
From April through May of this year, the FTX reserves reached a high of more than 102k BTC. In late June, this had dropped by 51.3%.
Reserves have steadily fallen since then, approaching nothing during this week's bank run. As allegations of Alameda misappropriating customer deposits surface, it appears that the Alameda-FTX business may have suffered serious balance sheet impairment in May-June following the failure of LUNA, 3AC, and other lenders.
Source: Glassnode
However, the stablecoin outflows remain stable during the current turmoil. Looking into stablecoin reserves, we can observe that aggregate reserves on FTX began to erode rapidly on October 19, falling from $725M to virtual nil over the next month.
After the June sell-off, stablecoin holdings increased considerably to a new sustained high, while BTC and ETH reserves fell drastically.
Source: Glassnode
While BTC and ETH exchange reserves fell this week, stablecoins net flowed into exchanges, with over $1.04B in USDT, USDC, BUSD, and DAI streaming in on November 10th. This is the seventh-greatest daily net inflow in history.
Source: Glassnode
This has boosted stablecoins kept across all exchange reserves to a remarkable all-time high of $41.186B. There has also been a noticeable growth in BUSD domination, with over $21.44B held in exchange reserves.
USDT exchange reserves have fallen little in recent months, but USDC reserves have fallen considerably, signalling a probable shift in market preference.
Source: Glassnode
Bitcoin Miners Tumbles
Bitcoin miners are still under great pressure, and data shows that hash prices are at all-time lows. Miners sold approximately 9.5% of their treasuries, or approximately 7.76 million BTC, as a result of the record-low hash prices. This is the steepest monthly fall in miner balances since September 2018.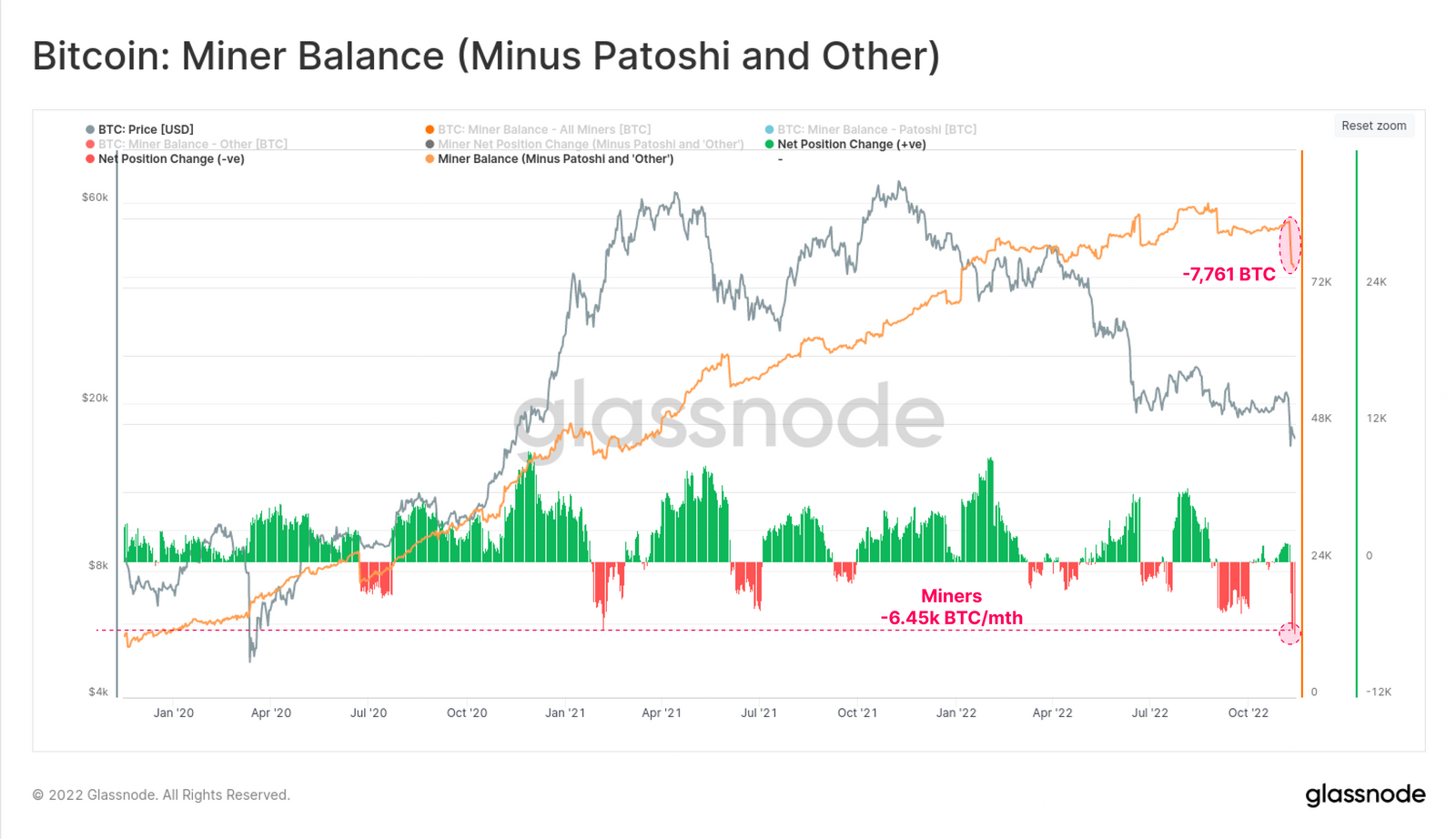 Source: Glassnode
Binance Saw Worth $1.35 Bn Bitcoin Outflow
According to CryptoQuant data, Binance has had a net 81,712 bitcoin ($1.35 billion), or more than 15% of the over 500,000 bitcoin on its exchange, withdrawn from the site in the last six days. Furthermore, a total of 125,026 ether ($155 million) and $1.14 billion in stablecoins were removed from Binance during the same time period.
Source: Glassnode