Liquidity Crunch's Fear Surrounding the Market
Concerns over liquidity as a result of the quick unwinding of the world's largest crypto exchange by transaction volume have resulted in record-breaking sales for hardware wallet manufacturers.
Ledger, a hardware wallet manufacturer, had its biggest weekly sales in the second week of November, with purchases only increasing as word of FTX's impending collapse spread. While exact sales data are unavailable, the CEO of hardware wallet company Trezor verified a significant increase in purchases.
As investors worry about the security provided by centralized exchanges, the trend of crypto consumers turning to hardware wallets is only going to grow stronger.
Bitcoin Outflows Experienced Record High
Bitcoin outflows from centralized crypto exchanges hit a new record this week, as investors shifted to self-custody options in the aftermath of the collapse of FTX, the world's second-largest crypto exchange just a week ago.
According to Bitcoin Net outflow exchange data recorded by analytic firm CryptoQuant, bitcoin exchange outflows increased to 742,401 between November 9 and November 15. The largest outflows of the week occurred on November 9, when 168,287 Bitcoins were withdrawn from exchanges.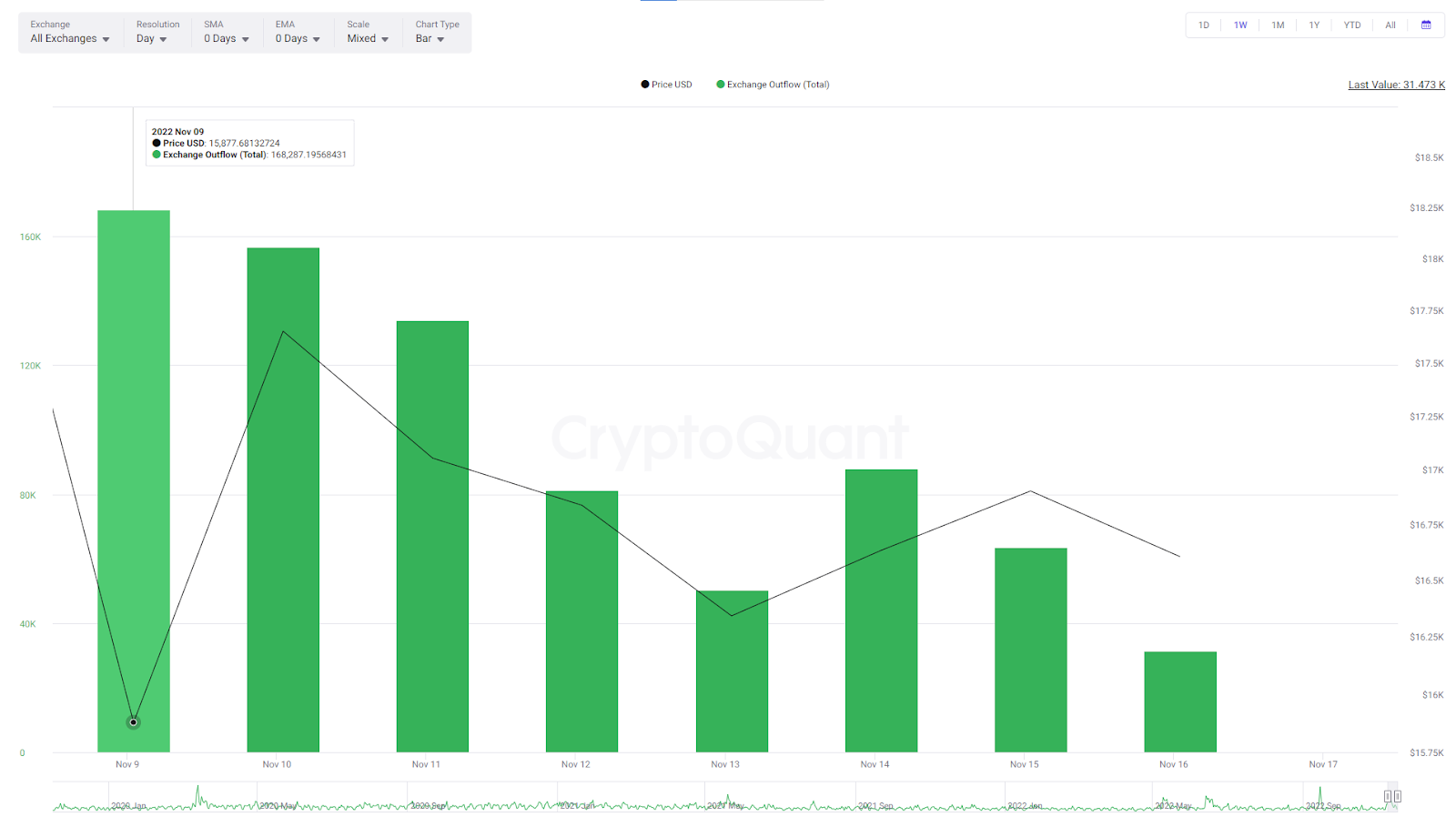 Source: CryptoQuant
While greater exchange outflows are normally indicative of long-term holders placing Bitcoin into cold storage, the current spike is most likely the result of a lack of trust in centralized cryptocurrency exchanges in the aftermath of the FTX debacle.
Bitcoin Investors Switching to Cold Storage
"Bitcoin investors have been withdrawing coins to self-custody at a historic rate of 106,000 BTC/month," according to on-chain market analytics startup Glassnode. According to Glassnode, this is comparable to only three previous periods: April 2020, November 2020, and June-July 2022.
According to Glassnode data, stablecoins are entering exchanges while assets such as BTC and ETH are leaving. This has increased stablecoin buying power on exchanges to approximately $4 billion per month.
Crypto Exchanges Stance on More Regulations
As the FTX situation deepened, crypto industry luminaries began to advocate for self-custody. Binance CEO Changpeng Zhao tweeted on Sunday that "self-custody is a fundamental human right," warning users that "mistakes here can be very costly."
Binance acquired authorization from Abu Dhabi's Financial Services Regulatory Authority earlier on Wednesday to provide custody to professional clients in and out of the Abu Dhabi Global Market, indicating the exchange's shift toward self-custody services.
According to CoinGecko data, Bitcoin has lost 11.1% of its value in the last week and was trading at US$16,511 at 10 p.m. in Hong Kong on Wednesday.