"We feel that this is important and it will help make Fiat on ramping easier. Our digital residents will also have banking access and Binance Pay options will make offering easier too. We believe that they don't compete but they are symbiotic and they can help each other and strengthen the crypto ecosystem."
Surangel Whipps Jr, the country's President, virtually attended a panel discussion on web 3.0, Metaverse, and the future of blockchain. He discussed the country's digital residency policy as well as the national stablecoin initiative.
President Whipps stated that after addressing the problems of the epidemic, the government chose to diversify its economy and implemented the Digital Residency Act earlier this year to foster variety. Individuals can get a digital identity from Palau through a virtual process under the laws.
Even though it has gained traction since its inception, President Whipps stated that the country is searching for methods to expand acceptance by broadening the scope of digital residence.
President Whipps also stated that top cryptocurrency executives such as Binance's Changpeng Zhao (CZ) and Ethereum's (ETH) Vitalik Buterin are interested in the country's digital identification initiative.
Related Read: XRP Price Strikes, Social Activity Peaks Monthly High
Ripple (XRP) Price Analysis
At the time of publication, the price of XRP is $0.358535 USD, with a 24-hour trading volume of $944,315,756 USD. In the last 24 hours, XRP has dropped 3.19%. XRP is currently ranked #6 on CoinMarketCap, with a market cap of $18,049,906,748 USD. There are 50,343,500,506 XRP coins in circulation, with a maximum supply of 100,000,000,000 XRP coins.
Source: CoinMarketCap
Also Read: How does Ripple (XRP) work?
On a two-week timeline, the goals for bullish XRP market participants above the 0.5 fib level are as follows: 0.618 [$0.617], 0.66 [$0.689], 0.707 [$0.801], 0.75 [$0.894], and 0.786 [$0.997].
Bearish traders, on the other hand, want to drive the price of XRP back down to retest the 0.382 fib level. If they succeed at that level, their secondary goal is the 0.34 fib level [$0.279]. Below that level, bearish XRP traders should aim for 0.293 [$0.246], 0.25 [$0.221], and 0.236 [$0.209].
According to the daily chart XRP price analysis, Ripple has been on an upward trendline, but in recent days, it has started to show indications of recovery. The price of ripple is currently at $0.3584 and exhibiting a red candle.
The relative strength index, or RSI, is at 45 and a declining RSI could be seen on the chart. The bulls are also aiming to surpass the moving average resistance. If it works, investors could anticipate a rise. Market sentiment may indicate a sell-off that knocks XRP all the way down to $0.30 - its crucial support level - if the bears are successful in pushing prices below $0.34.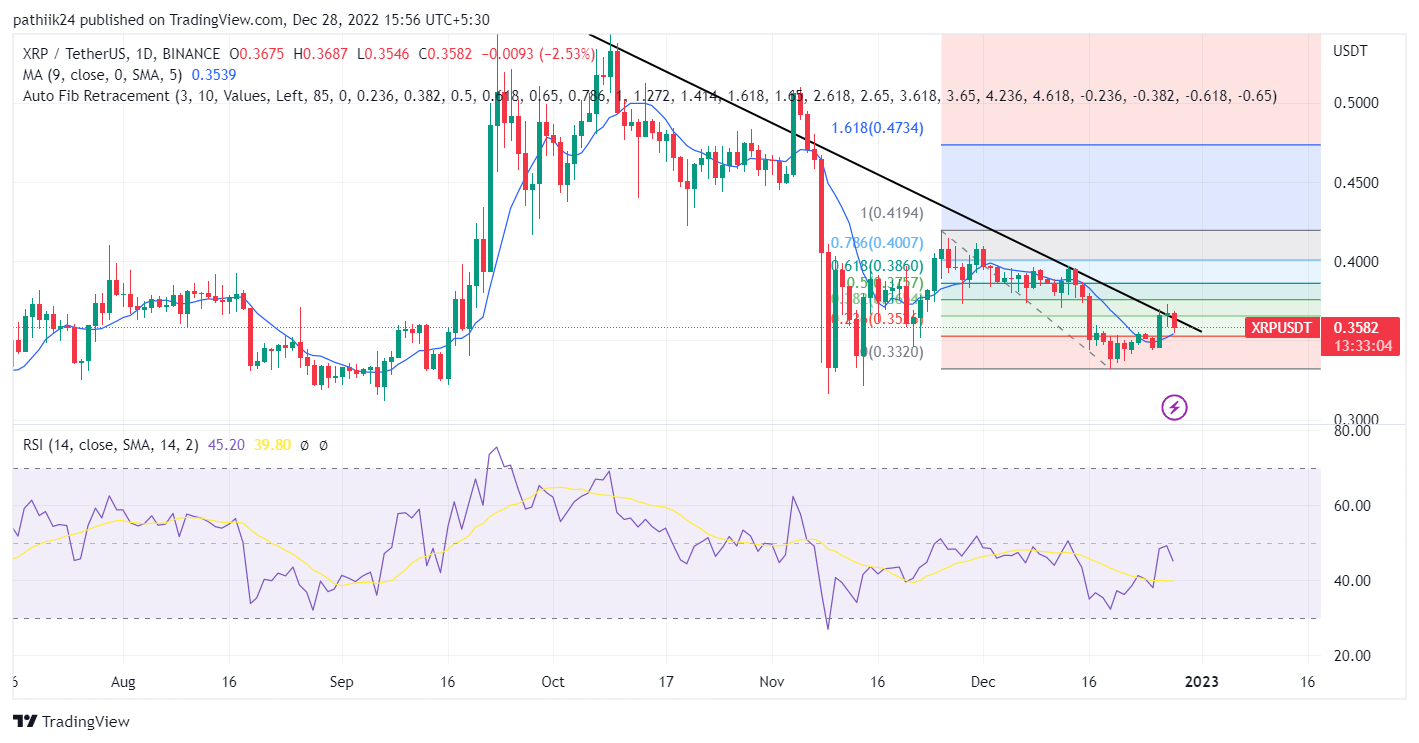 Source: TradingView
According to our weekly crypto price study, Ripple had been on a declining trend. Ripple's price is starting to climb and is now trading between $0.37 and $0.34.
The RSI (Relative Strength Index) is getting close to 50. Furthermore, the bulls are attempting to break through the moving average resistance. If successful, investors might expect a price increase of $0.37 or higher. If the bears are successful in driving prices below $0.34, the market might see a sell-off that takes XRP all the way down to $0.30, its important support level.
Also, the MACD indicator has already formed green bars, indicating a bullish trend, but as it continues, it will hit zero.
When the price goes below the 20-day EMA, bears will attempt to drive the XRP pair below $0.33. If they are successful, we may witness a drop to a critical support line at $0.30, which bulls will almost surely try to defend against further declines.
Prices might rise from here, enabling buyers to push the pair beyond overhead resistance at $0.37. If this happens, we should expect a rally up to $0.41, which might function as a severe hurdle.
Source: TradingView
Similarly, with $954 million in XRP tokens exchanged in the previous 24 hours, the alt saw its largest daily trading volume in the last week, according to Santiment statistics.
Ripple (XRP) FAQs
When did ripples start?
The goal of XRP is to act as a form of transitory settlement layer denomination, acting as an intermediary mechanism of trade between two currencies or networks. Chris Larsen and Jed McCaleb co-founded Ripple, which was originally launched in 2012.
How much was Ripple When started?
Right after its debut, Ripple's price was set at ten cents, and XRP was immediately listed on cryptocurrency exchanges.
How many XRP are left?
According to Ripple's website, the business has around 5.56 billion XRP tokens as of September 4, 2022. Ripple's XRP remained in escrow accounts totalling 44.6 million.
What is the disadvantage of Ripple?
It is difficult to track the value of XRP since investors are unaware of when substantial quantities may be released into circulation. Because it preserves a default list of transaction validators, it is less decentralized than other cryptocurrencies.
What problems does Ripple solve?
Ripple's XRP-powered technology enables network participants to conduct payments in real-time, improving payment efficiency and certainty. XRP is utilized to access liquidity on demand and lower the amount required in Nostro accounts to conduct global payments.