MATIC, the native token of Polygon, has been a victim of the bearish markets. MATIC touched an all-time high of $2.72 in December 2021 and currently trading at $0.8619. Considering the market scenarios and analyzing the metrics, will MATIC ever recover from this crash?
Condition is worse than expected
The last 24-hour data reveals that Polygon saw a 1.70% decline in its market cap. The previous 7-day data shows MATIC's market cap declined from $8.18 billion to $7.55 billion. A broad figure would better illustrate how worse the situation is. The market cap was at an all-time high of $20.41 billion in Dec 2021. Since then, the market cap of MATIC has declined more than 65% from its peak.
According to data from polygonscan, the proof-of-stake blockchain observed a severe decline in total transactions in a day. On June 18, 2021, the transactions carried out in the Polygon network reached 7,090,622. Since then, the numbers have been declining. On November 2, 2022, the network witnessed only 2,591,953 transactions in a day.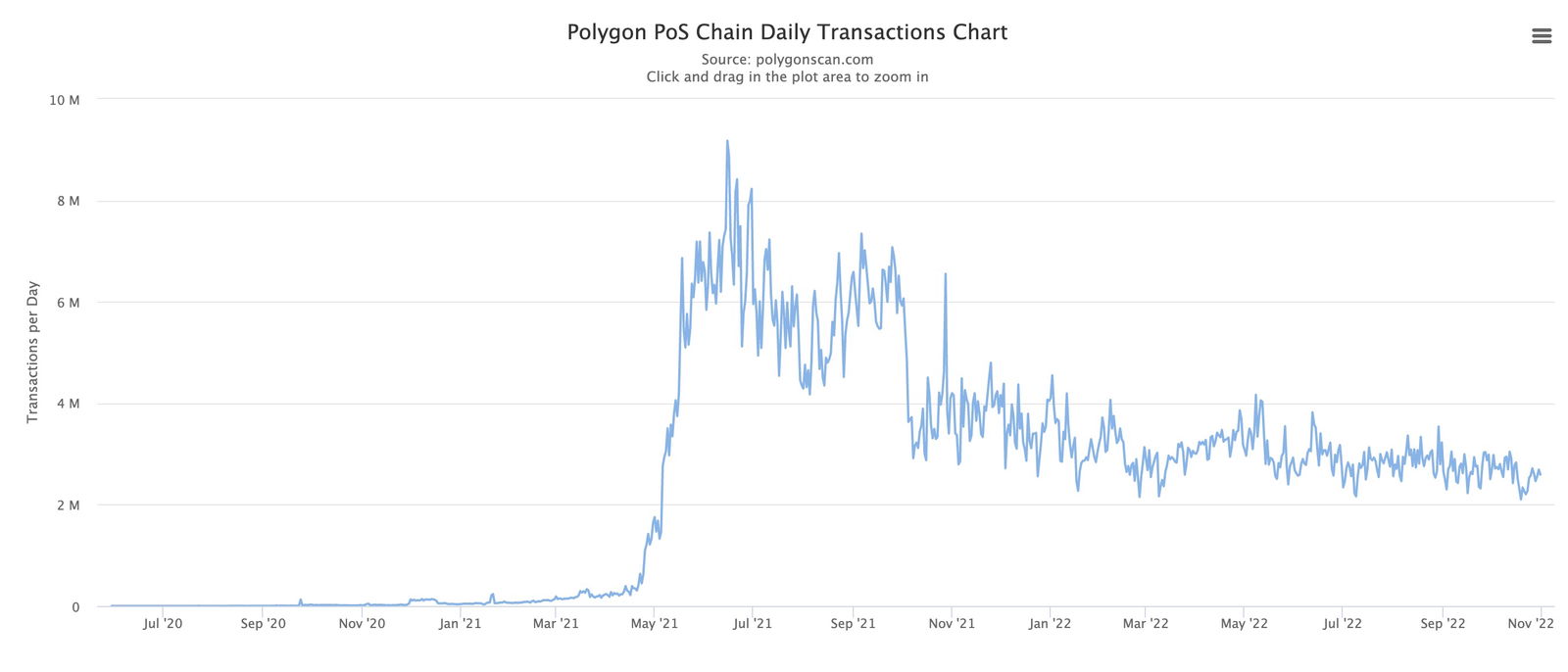 The metrics, as mentioned earlier, have taken a significant hit and point toward the declining interest of investors in crypto.
Is This Increasing Metric a threat?
The gas limit is the maximum amount of gas a transaction can consume. The gas fee amount is variable. A complicated transaction requires a higher gas limit to carry out a single transaction. And higher gas fees could become a barrier for those transacting on the network.
Between July 2020 to June 2022, the average gas limit was stable on the polygon blockchain. After a significant fall, the average gas limit reached a new high on March 2022. The metric fell in October, but it has started to bounce back. The increased metric indicates that users could be charged a significantly higher fee to transact on the polygon network. In a bearish market, a higher gas fee means added trouble. The increasing gas limit could become a threat to its network.
Whales Are Here To Help!
The whales are here to show support to MATIC. The whale transaction count (>100k USD) (MATIC) between August to mid-September received good support from the whales. On August 13, over 246 whales carried out transactions worth more than $100,000 on the MATIC network. Similarly, the whale transaction count (>1m USD) (MATIC) saw similar support. On September 2, over 21 whales transacted amounts worth more than $1 million on the polygon network.
However, the involvement of whales has been declining since it peaked in September. Is it the whales losing interest too? Most circumstances for MATIC don't favor a bull run any soon. Will MATIC be able to come out of this bear bubble?