After the market of cryptocurrency had its share of ups and major downs, "dogecoin to the moon" – may not be a phenomenon that might occur soon. However, Dogecoin is definitely going to space. A YouTuber residing in the US, Reid Williamson, sent a physical but "tangible version" of Dogecoin to space. Industrialist Elon Musk, who is personally invested in this particular crypto coin, had been tweeting about "Dogecoin to the moon", wouldn't be surprised if he had sent a Tesla to Space to honour this. However, this young Youtuber (23 years) in order to felicitate Elon Musk on his 50th Birthday, on 28 June did this.
Youtuber Reid Williamson posted a YouTube Video "I Sent A LITERAL Dogecoin to Space" on June 29, 2021. To pull this off, they had previously experimented by sending burgers and ice-cream cones to space! (This is insanely amazing!) after gaining plenty of insight into the procedure of sending objects to space. The Youtuber along with his friends started with the mission – Dogecoin to 'Space'.
The Youtuber shared the entire process on the video he posted. Starting from the things he gathered and bought, such as a GPS tracker, weather balloons, a parachute, a physical dogecoin replica from amazon. He mentions that it requires three main components to send anything to space: the payload (which will be the carrier of the GPS tracker, a GoPro, and the Dogecoin), balloons, and parachutes. The whole procedure shown in the video is entertaining and super scientific. They had a literal quest to find Helium Gas to fill in the balloon and faced several challenges.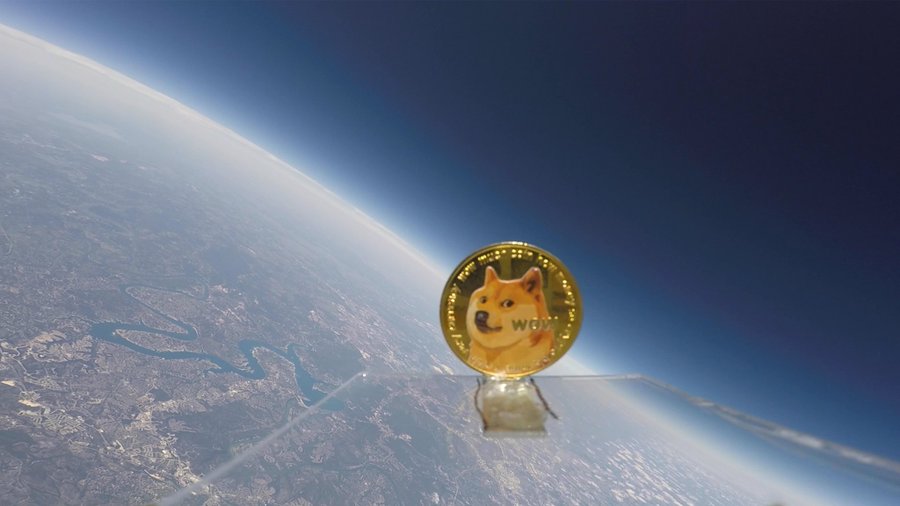 The plan was smooth though, the helium balloon would take the payload to space, and when the pressure imbalance occurs, causing the balloon to burst. The parachute would bring the payload back to earth. In the video footage, the securely fastened payload with the physical replica of dogecoin in it remained a considerable time in space. Then while coming back to land, it landed around 30 miles away from where it was launched. The YouTuber along with his friends drove all the way with a GPS tracker to find the apparatus. However, their Dogecoin was missing.
Dogecoin
It is interesting because 'Doge' was a meme of funny-looking Shiba Inu with distorted texts on the image. Later, inspired by the meme, a financial start-up was made into reality- Dogecoin. Reminds me of the famous Tik-Tok music…" mmm Feet (read it as DOGECOIN) as a joke, but bro… I don't think it's a joke anymore".
This cryptocurrency defined as a 'meme coin' was marketed extensively by tweets from Elon Musk. it reached its peak rate in mid-April. This cryptocurrency is now listed on all the major Cryptocurrency exchange Platforms such as Binance and Coinbase. It then rallied up to 7.5 cents before sliding down to its current rate. It was then decided by the Tesla owner, entrepreneur, industrialist Elon Musk that Dogecoin's rate will soon touch $1 and continue to rise.." Dogecoin to the moon" project was inspired by this analysis.
In an interview with TMZ, Elon Musk replied to one of their questions and said, "There is a good chance that crypto is the future currency of the world. Then the question is which one is it going to be? It could be multiple." He later adds on to it about how Dogecoin was created to mock this whole system and says, "that the currency that began as a joke, becomes a real currency". (The whole ironic situation is worth being a joke.)
Reactions To The Youtuber
Reid Williamson posted the news on his official Twitter account on the same day when he posted the video on his YouTube channel. The reactions were unanticipated, the news went viral. A thread of tweets asking whether it was real. And some tweets also mocked the Elon Musk project asking "wen moon".
Please follow and like us: