Proposal to invite Paraguay more involved in Bitcoin (BTC) and the potential to make cryptocurrency a legal tender. This action is followed up by the example set by the South American country El Salvador. Although the world bank didn't entirely provide them with a helping hand in this course of action, they went ahead with the provision anyway. Later in this article, we will also discuss why the World Bank wasn't supportive of this legislation step.
Paraguay Became The Second Country To Pass a BTC Bill To Accept Cryptocurrency As A Legal Mode Of Transaction
After Paraguay congressman, Carlitos Rejala posted a tweet on 17th June," This is Paraguay" and adds "July we legislate #Bitcoin" suggesting that in July a complete legislative framework of cryptocurrency will be released. On Thursday night, June 2021 Paraguay hit the milestone and became the second country in the world to introduce a BTC bill to make it a legal tender in the country.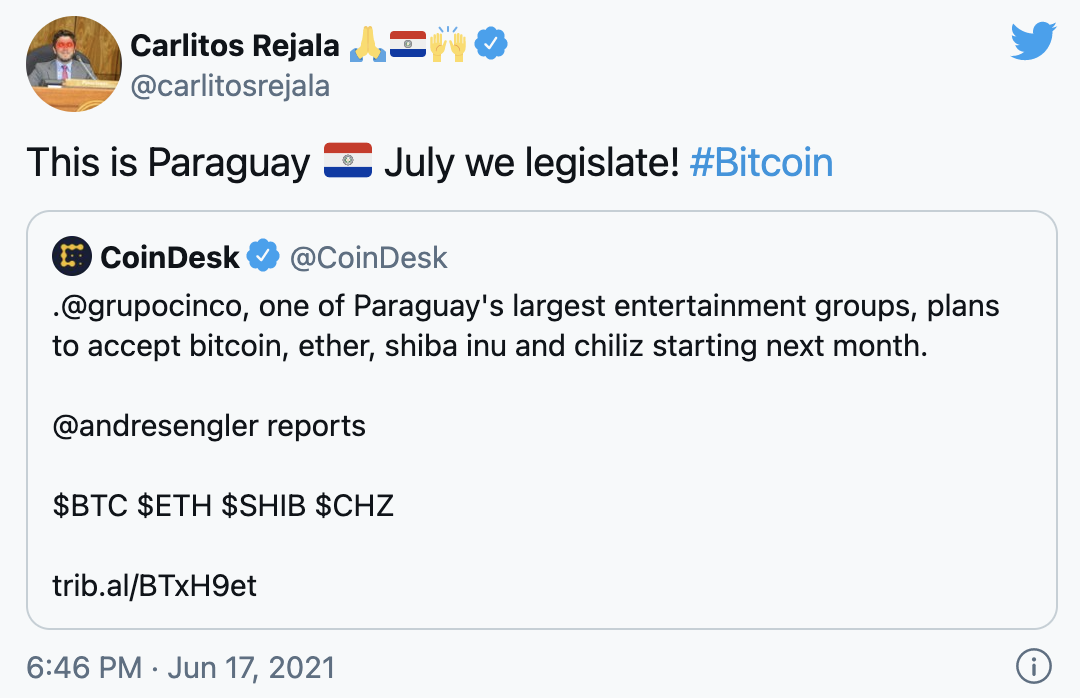 Due to the consecutive provisions released in different nations, El Salvador followed by Paraguay and more in the queue preparing. The tweets by congressman Carlitos Antonio Rejala Helman went viral on Twitter this followed up with the actions of the US President's announcement on his plans regarding physical and monetary infrastructure, led to the rates of Bitcoin rallying up along with the traditional market of stocks and shares, dow, altcoins &c.
The Fear and greed index which is a measurement of sentiments of traders (sourced by Alternative. me) loomed around 'Fear' and 'Extreme fear'. The definite reason being the excessive drop in Bitcoin rates. It reached below 29,000 USD after a peak of 65,000 USD, which is more than half. However, considering the following events taking place around regulation and legislation with Bitcoin, its price rose to 35,000 USD, [current data says 33,422.20 USD]. A hashtag was soon taken up by the traders and investors on Twitter within an hour, #PayMeInBitcoin. 
Will The Bill Get Passed In Paraguay, If Yes, Then What Lies Ahead?
The pioneering nation in this particular case, El Salvador had a clear majority in the parliament while passing the BTC Bill and making cryptocurrency a legal tender. The situation is unlike the former in Paraguay. Deputy Carlitos Rejala speaks with confidence that the passing of the BTC bill will pave the path of the nation to greater heights in economic growth and development. They consider this step important to emerge as an international power in the recent future. 
The bill was passed at a time when the market rates of Bitcoin dropped enormously due to the China-clamping-down on its mining hub. The awareness of the environmental hazards caused by mining cryptocurrency took a toll on its market. Industrialist Elon Musk also tweeted regarding revoking Tesla from accepting Bitcoin as a mode of payment. Iran as well had to shut down its crypto mining centres for 3 months as the country was facing regular blackouts. Later, Elon Musk tweeted that Bitcoin will be accepted again in Tesla when it will be mined using clean energy. This became the goal of these countries. Influenced by El Salvador's plan to harness the volcano's thermal energy in Bitcoin mining, Paraguay also promised to establish a "green Bitcoin mining hub". 
Paraguay is a cheap exporter of energy, the nation charges 5 cents for a kilowatt an hour. One of the officials who partnered up with the country's government to make this goal into reality says that Paraguay has availability of 8,800 megawatts, within which only 3000 megawatts are utilized.
It's Not Always Smooth And Easy Climbing Up The Stairs Of Innovation And Success
These nations who are moving forward in the process of making BTC cryptocurrency a legal tender are facing challenges. The International Monetary Fund (IMF) was "not against" El Salvador adopting BTC as a legal tender but it expressed concerns regarding this. They mentioned this provision possesses "macroeconomic, financial and legal issues."
Whereas the World Bank denied accepting the adoption of any cryptocurrency in its legal monetary system. Quoting from their report, it says, "We are committed to helping El Salvador in numerous ways including for currency transparency and regulatory processes. While the government did approach us for assistance on bitcoin, this is not something the World Bank can support given the environmental and transparency shortcomings."
With time we will further see what happens next. Stay tuned for further information.
Please follow and like us: