South Korean banks turn to crypto assets. South Korean conglomerate Woori Financial sought to work with the blockchain-based company, Coinplug to offer crypto custody services. This is the third bank to enter the competitive arena of such a service.
What are Crypto Custody Services?
Simply put, this is a method to eliminate or reduce the information security issues of the investors as much as possible. So, in the field of cryptocurrency, as observed by the currency trends investors and digital asset holders are becoming hungry for more and more profits. This results in the increase in the volume of the funds in the market of cryptocurrency and industries and individuals hold a larger profile of crypto assets.
Here, the traditional financial institutions and banks (such as Woori Financial in South Korea) took the opportunity to provide storage and security services for cryptocurrencies.
Crypto wallets have a chance of getting hacked or stolen, private keys are a highly complex mixture of alphabets and numerical encrypted texts, difficult to remember but prone to theft. Paper works and hard disks are again prone to theft and might get misplaced. All these cryptocurrency storages are risky and might result in the investor losing their assets. On the other hand, the crypto custody service is a blockchain cloud, application programming interface (API) framework. One can consider this similar to cold storage but in a digital form, away from the mishappenings of the internet yet securely saved in the digital form.
This is a modernized and enhanced manner of promoting firmer cryptocurrency regulations. There are two types of storage: Cold storage custody and hot storage custody, and I feel Investopedia has it clearly explained, quoting from their site, "hot storage is connected to the Internet and, as a result, offers easier liquidity. But hot storage options may be prone to hacks due to online exposure. Cold storage solutions offer greater security. However, it may be difficult to generate liquidity from crypto holdings on short notice because of their offline nature. Vault storage is a combination of both types of cryptocurrency custody solutions in which the majority of funds are stored offline and can be accessed only using a private key.
About The Woori Financial
Woori is the third commercial bank in South Korea to enter the digital asset custody business as the country prepares to introduce a regulatory framework for cryptocurrency exchanges in September, this year (2021). With Woori Financial entering this field, it is the third largest and majorly significant bank in South Korea to offer crypto custodian service.
In November 2020 Kookmin, the country's largest financial institution, launched its custody service, following in the footsteps of Nonghyup Bank, which established a similar entity earlier that same year. Another local bank, Shinhan, launched crypto custody services earlier this year, in 2021 landing first customers in May.
As per an additional report by CoinDesk Korea, D-Custody will allow customers to safely store cryptocurrencies such as Bitcoin and Ethereum, as well as non-fungible tokens (NFTs).
The firm also hinted that its clients will reportedly have an opportunity to invest in decentralized finance (Defi) products.
Woori Bank stressed that since South Korean banks are not allowed to offer crypto-related services directly, the only available option for them to enter a digital asset market comes through a joint venture with an already existing business in this area.
"Since Coinplug does not operate an exchange, we decided that it could become a stable partner," a bank official told CoinDesk Korea.
According to the data from Statista, Woori is the fourth-largest bank in South Korea in the fiscal year 2020, with over 350 trillion (Korean Won) KRW (more than $311 billion) in assets under management.
The largest bank in South Korea ranked by total assets under management. Figures in trillion South Korean won.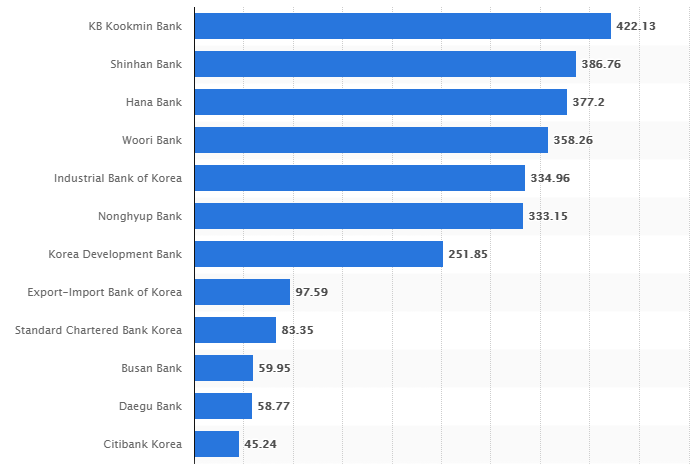 Woori Financial Group has reportedly agreed to set up a digital asset custody joint venture with blockchain-based solutions provider Coinplug.
Woori Financial Group has become the latest major South Korean financial institution to launch cryptocurrency custody services. As reported by Korean Economic Daily, Woori has partnered with local blockchain company Coinplug to create a digital asset custody joint venture.
The new entity, dubbed D-Custody, is reported to be incorporated in the coming weeks with Coinplug becoming the largest shareholder.
Cryptocurrency is revolutionizing monetary technology every day, with regulators molding and adopting new innovative ideas to support blockchain systems.
Please follow and like us: